Roller Skate Cake!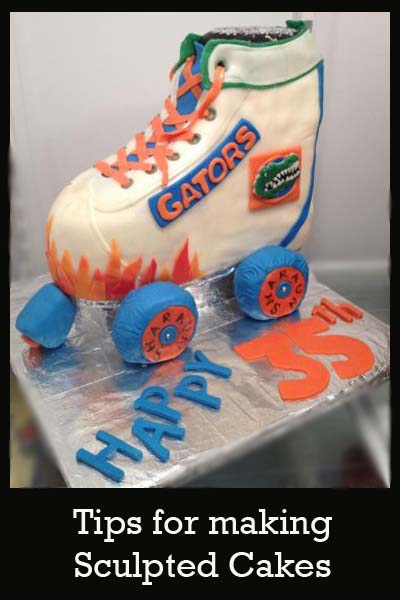 This was a fun cake to make! To make the skate seem like it was resting on wheels I put small blocks of wood under the cake board. (The shoe shaped cake board that I had cut out.) I hot glued the blocks on onto the cake board base and then covered the blocks with tin foil to match. I used Wiltons Fondant mixed half and half with homemade fondant (see "tricks of the trade" for recipe) because the store bought fondant helped it dry a little stiffer while the homemade fondant gave it a better taste. The crocodile mascot was one of my favorite parts!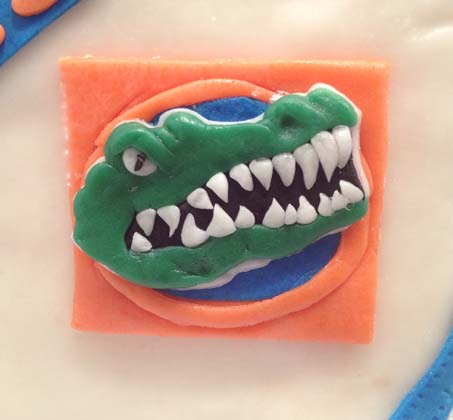 Whenever I watched Cake Boss or one of those shows, they always had this huge stack of cake that they would just cut into and carve their shape. Because I prefer to not waste a bunch of cake, and because my eye doesn't work that way, I like to build my cake closer to what the actual shape will be. So for this cake I used square cakes that I cut into rectangles and then gradually stacked higher and higher.
To get the rounded shape of the skate I did smooth out corners with my knife but then to really fill in the places that needed it I took some cake and crumbled it up, added some frosting to it to form my own cake "clay." I used that to pad the edges and create the rounded look. I didn't put in on very thickly, but it tastes very good (like the inside of a cake pop) and it helps really keep the cake moist. I used this Wilton Pearl Dust, Silver-0.05 Ounce (1,4g)
to do the silver extras.