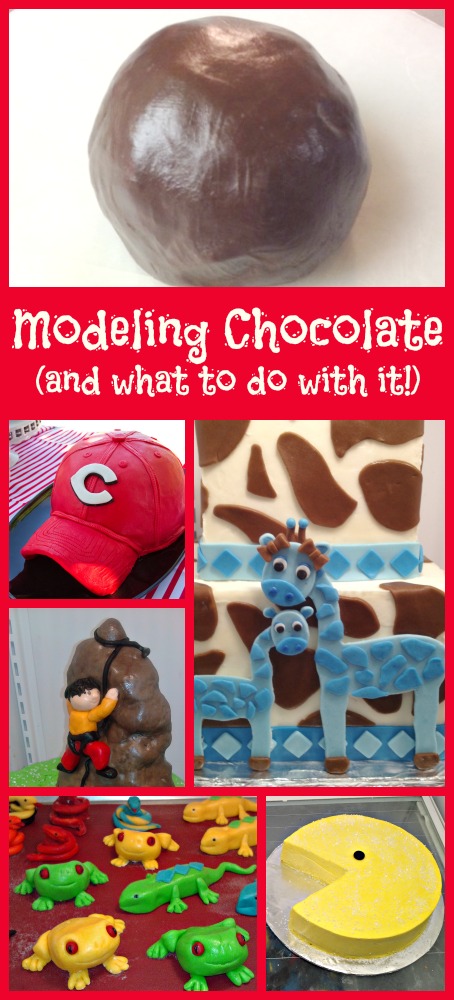 Easy and Fast Molding Chocolate
1 bag Wiltons Melts (any color!! even more fun!)
1/3 cup light corn syrup
In the microwave (I prefer a glass bowl) melt the melts until melted. (How's that for a sentence!) Add 1/3 corn syrup and stir quickly, you will see the chocolate start to firm up almost immediately, keep stirring until completely combined. Place in a plastic bag and let sit over night. Sometimes the chocolate seems a little oily right after I mix it but it usually absorbs overnight. If I need to use the chocolate immediately I add a little corn starch or powdered sugar.
~MC can be stored for weeks! Wrap well in saran wrap and then place in a zip lock bag. If you want it to last for months keep it in the fridge.
~You can color modeling chocolate- but NOT with liquid coloring, only powdered or gel. It is a messy job and does not absorb color as easily as fondant so this is why I prefer using Wiltons Melts over real chocolate, for all the ready made colors. (You can use Fondant and chocolate in the same project so I mix and match when I don't have the right color in MC.)
~When making figures MC blends easily- seams can be effortlessly blended.
~You CAN cover a cake with modeling chocolate- use the same method as fondant but do not roll too thin and be sure your cake can withstand the weight. This is DELICIOUS. Tastes much better than fondant and MC does not crack like fondant can.
~ MC stands on its own, it does not take as long to dry as fondant and even just sticking my figure or flower in the fridge for a minute hardens it right up. FANTASTIC.
MC will start to wilt or sweat under heat or if handled too long. One trick I love is mixing fondant WITH molding chocolate. You can add a little or a lot. This will help absorb a little of the oil, help the chocolate hold its shape just a little bit better, and dry a little harder. (And still tastes really good!)