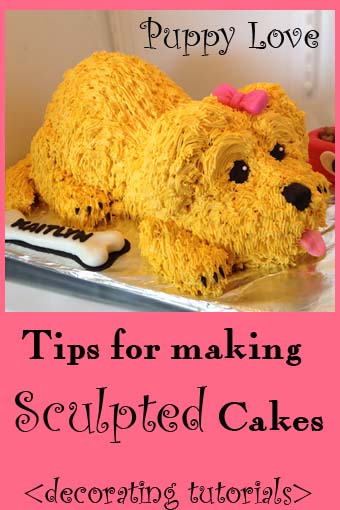 For this puppy cake I used square cakes that I cut into rectangles then added smaller square stacks to form the behind and head (not the feet) of the dog. I cut out triangles for the face and stacked them (frosting in between of course) to the height I wanted. (It looked like an Egyptian pyramid, all squares!)
To get the rounded shape of the dog I smoothed out corners with my knife and to really fill in the places that needed some "puppy fat" I took some cake and crumbled it up, added some frosting to it to form my own cake "clay." I used that to pad the edges and create the rounded look.
To make the ears and feet I used Rice Crispy Treats, the recipe is HERE. To create the hair I used the #5 Wilton Tip. For the Fondant accents I used THIS homemade fondant recipe.