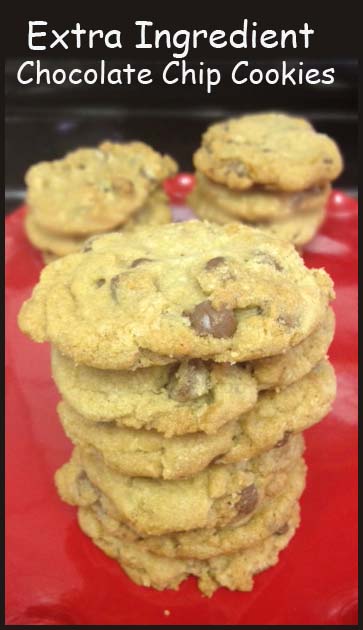 Why do I love recipes with a "Secret Ingredient"?? I just do 🙂 & after years of trying to make cookies like "mom used to make" I finally found a no fail recipe! I love ALL BUTTER recipes the best (because the DOUGH tastes better) but they seem to always be flat. Not these! I got this recipe from a cousin and it was delicious but a tad dry, so I added a little less flour and 1/2 a packet of vanilla pudding. Magic!
Chocolate Chip Cookies
(Preheat oven to 375)
4 sticks (2 cups) butter – at room temperature
2 cups brown sugar, firmly packed
2 cups granulated sugar
3 large eggs
3 teaspoons pure vanilla extract
5 cups flour
1/2 3oz pkg of vanilla pudding
1½ teaspoons baking soda
1½ teaspoons salt
4 cups (2 bags) Semi-Sweet chocolate chips – add more if you like them super chocolaty.
Cream butter and sugars until light and fluffy. Beat eggs and vanilla together and add to batter. Mix until well incorporated.
In separate bowl combine and stir together flour, soda and salt. Add to batter about 2 cups at a time and mix well. Then add chocolate chips (and nuts if you like them).
Bake on a foil-lined cookie sheet in a 375 oven for 10 or 11 minutes. Remove from oven even if the center looks a little underdone and cool on the cookie sheet.
Makes about 48-60 cookies depending on size.