My daughter made these this morning and I was thinking "ok they will be a little thick but at least they will be healthy" but they turned out SO DELICIOUS! They are light and moist, TDF. Easy and fast too. this made 3 doz (yes I am feeding an army of kids) so "half it" if you don't need that many!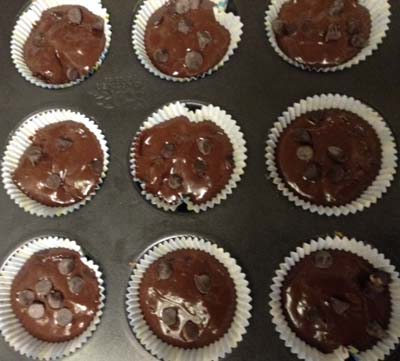 4 cups flour
1 1/2 cups choc chips (we used semi sweet)
1 cup dutch cocoa powder (or any unsweetened cocoa)
2 tsp baking soda
2 tsp vanilla
2 eggs
2 cups plain yogurt (we used whole not non fat)
1 cup buttermilk (could use just milk but I like the flavor!)
1 c oil
choc chips to sprinkle on top before you bake.
Mix the dry, then add it to the combined wet ingredients. Bake at 400 for about 12 minutes. Happy Baking!