I think these are MY personal favorites. The perfect amount of peanut butter, chocolate, and just enough oatmeal to be perfectly chewy and so delicious! I love them. The dough is amazing too!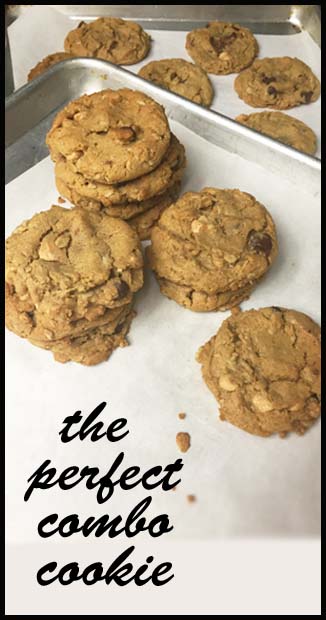 1 cup softened butter
1 cup white sugar
1 cup packed brown sugar
1 cup peanut butter
1 or 2 tsp vanilla extract
2 eggs
2 cups flour (I used one cup flour and 1 cup whole wheat pastry flour)
2 tsp baking soda
1 tsp salt
1 cup rolled oats
1 cup chocolate chips
1 cup peanut butter chips (I added closer to 2)
Combine the wet ingredients until smooth, then in another bowl combine the dry ingredients then add them into the wet mix. Add the chocolate chips just before all the flour is completely mixed in.
Bake 10-11 minutes at 350- take them out just before they look completely done. Enjoy!!