Well we have had Tula home for over 2 months now.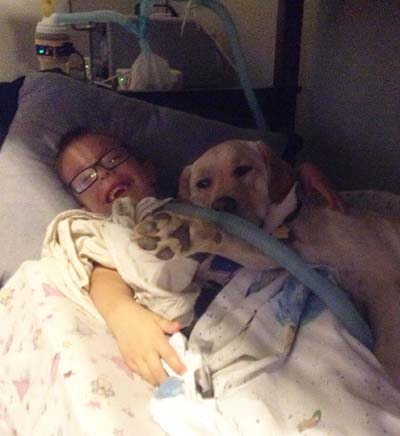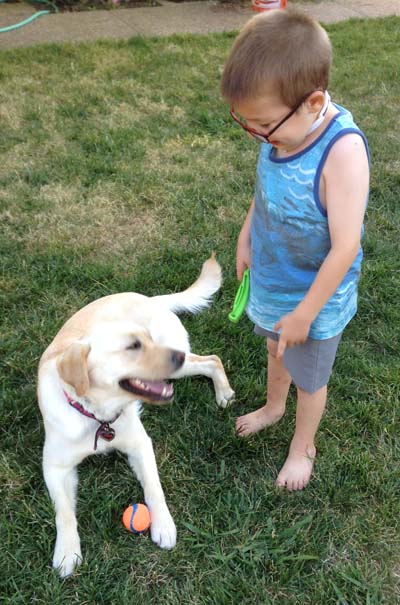 The first couple days we had her home I was feeling almost guilty- like we had this dog who could do so many things that Ben didn't need (open the door, turn on the lights, pick up a wallet :)) but it wasn't long before I started to see how Tula was really changing his life. We were at the dentist waiting for Natalie and Ben saw a little girl walk in and start playing at the magnet table, he ran over and started playing right next to her watching her face the whole time. She got up and went back over to her mom and Ben just looked crestfallen. I whispered "Ben, you can tell her about your dog!" (Tula was being perfect laying under my chair.) He jumped up, ran over and said "I have a dog" and the next 15 minutes they were just playing all together.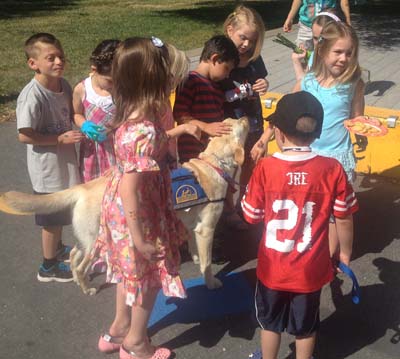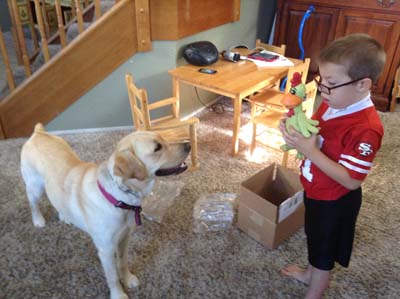 We used to go the park hoping someone would play with him- now he is a kid MAGNET (he is in the red 49er shirt.) And this is really what it boils down to, Tula helps Ben feel like the most important, most confident boy in the world. Everywhere we go he is constantly on the look out for kids "mom do they want to pet my dog?" And he is just happy in general on a new level. At Costco he walks around next to Tula with CCI bookmarks to hand out asking "Who wants to talk about my dog?"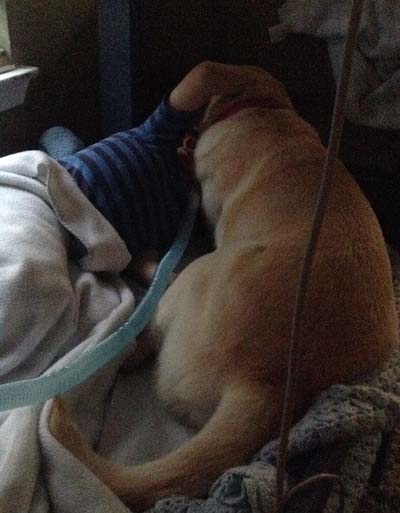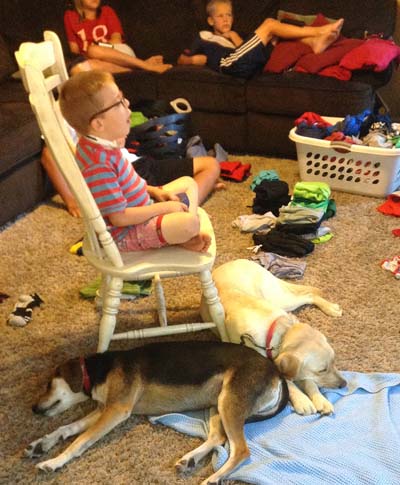 This morning Tula came back upstairs to get on my bed and I could hear Ben singing (to the tune of Frere Jacques) "Where is my girl? Where is my girl? I dont know! I dont know!" and when Tula heard him, her head popped up and she jumped up to go back downstairs.
When we adopted Ryder last fall I had no idea that I was such a dog person. (Maybe its because we aren't getting more babies ;)) I wanted a dog more for the kids but I can see how if I wasn't wanting to walk the dogs, work with them, it wouldn't have worked out very well. Adding Tula to the mix has really just been a JOY. We love it. (Even all Tula's shedding hasnt made us sorry!) They are just such a calming presence and their love and loyalty makes them impossible to resist. I watch Ben leading Tula around the yard on a short leash and she is so patient and willing! He cant walk by her without kissing or hugging her, and now we spend a lot more time outside because its so much more motivating for Ben.
Tula came home knowing 40 commands really well. But like they said at CCI there are some we will use a lot more than others. We love "speak" and think she is so cute when she does it because normally she is so quiet. She does a little gruff sound almost like she is finding her voice and then lets out a hearty WOOF! We have taught her to bark when we hold the toy microphone up to her nose like she is answering a question. Ben loves to ask "Tula do you like be my dog?" and hold the mic up for her to answer. She has also learned "Go To Ben" really well. Ben will go hide somewhere and we tell Tula "go to Ben" and she will go through every room till she finds him. Of course sometimes his giggling gives his spot away.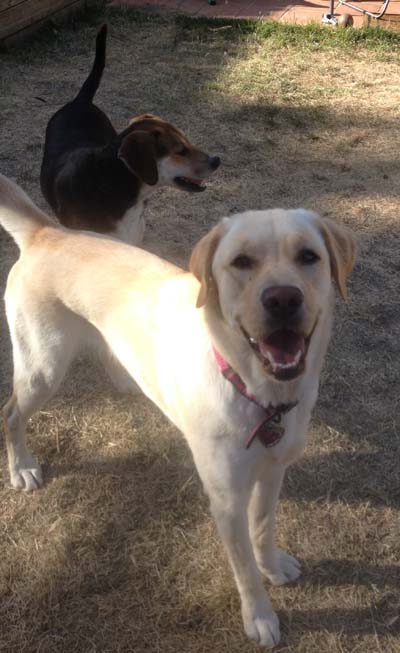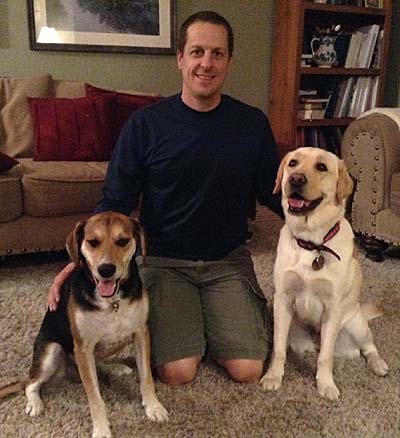 When we first brought Tula home Ryder was like a nervous wreck, barking when we would pet her, anxious about anything we did with her…. but we made sure we fed him first, said hello to him first, gave him lots of attention and now he has totally chilled out. He and Tula are actually good buddies now. They are starting to play like good dogs play (Ryder used to snap at her more, now he is more playful and there is better back and forth between them.) And he is being better! We train with Tula for just a little bit everyday and Ryder is right there- we never could get him to "shake" before, or fetch but now he does- he sees all the reward Tula gets for it and doesn't want to miss out. (Natalie learned a lot at Dog School too, she is great working with Ryder.) I was worried about walking them together (tangled leashes??) but they stay on their own side and are just great. I feel like such a good dog whisperer but I remind myself "of course its easy to be the master of a dog who is already perfectly trained!"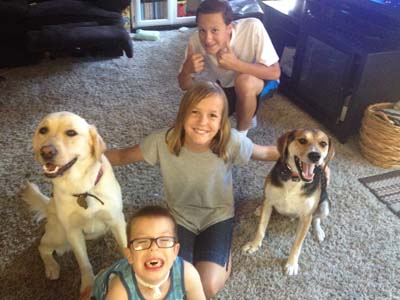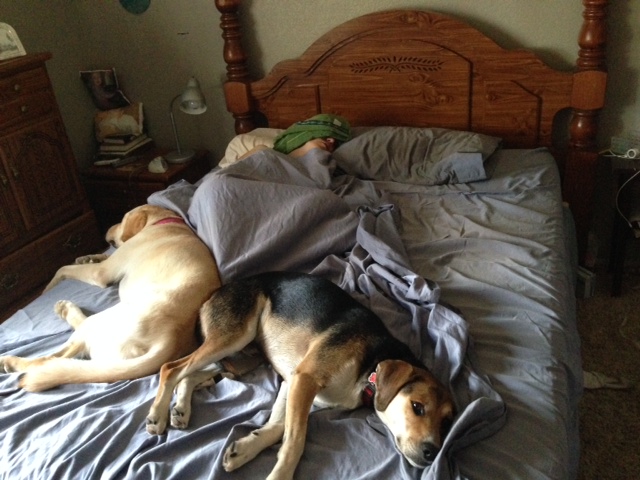 Of course the rest of us love her too. Both dogs get lots of attention. Jack is constantly trying to cuddle with either dog, Ty used to be afraid of anything furry now he says "I like MY dogs." I love seeing my 15 year old say "aww look how cute he/she is!" I feel like this was the right time and season to become a dog family! Such a blessing.
Jonathan took this picture one morning while I was still asleep (that kitchen towel on my face was all I could find to block the light) and later he asked me if I was happier now that we have another dog and I was all "well I WAS happy" (because that is one of my mantras I repeat to myself to remind me that happiness is not the situation but the overall state of being…feel free to eye roll here) and Jonathan said "its ok if the dogs made you happIER, its not a bad thing!" And yes he is right. Something about their little kid qualities of love, silliness and devotion has really brought more joy to our home!
Go HERE for more blog posts. 🙂