This was a cake for my son Ty, he turned 3 and was obsessed with Sesame Street. I had been wanting to make a really fun "Elmo and friends" cake so this was perfect timing. As I made the cake and started adding the characters and the decorations Ty became very particular about what should be on his cake. Starting with the placement (Super Grover had to be on top!) to the amount of triangles that needed to be on it.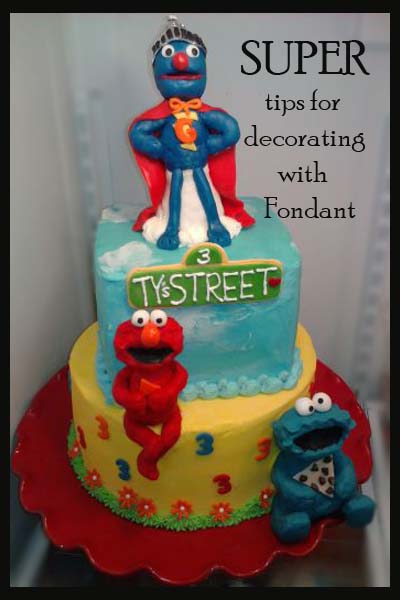 I tried putting thicker fondant and clipping it with scissors like I have in the past to make the fur, but that wasn't working. Elmo's head became too heavy for his body. Once I got over the idea that it had to be fuzzy, Elmo's fur was easier than I thought. I used rice crispy treats as the base form, not rolling them too tight so the bumpy texture was perfect.
Spending so much time making the characters would be wasted without a nice finished background, but I didn't want to make it too complicated. Lots of bright yellow and the sky background completed it nicely.
As much as we love Elmo I think Cookie Monster was my favorite on this cake! Go HERE to learn how to make great fondant for decorating.
Happy Birthday Tybo!