These were for a Frozen themed party- I used Duff Edible spray for the silver- love the tone of it.
Before I start dipping I get my whole set up ready. It makes a difference to have what you need right there when you are dealing with melted chocolate!
A. I line a cookie sheet with wax paper- perfect to catch all the drips, easy to change out as needed, and easy clean up. When I am done with dipping I just pour the left over onto the paper to let harden and save for later. And my melting pots- these are perfect for pops, they keep the temperature consistent unlike microwaving chocolate.
B. I put my sticks, bags, and ties in a container ready to use and not spilling all over the counter.
C. A damp washcloth for quick finger wipes (after wiping off those pop sticks, this is a must have.)
D. Off to the side I keep my sprinkles and sprinkle bowls- I hold the pop over the bowl as I douse it with sprinkles- KEEP CLEAR of the chocolate pots or you will have little bumps when you dip!
E. Styrofoam trays to stick the pops in as they dry.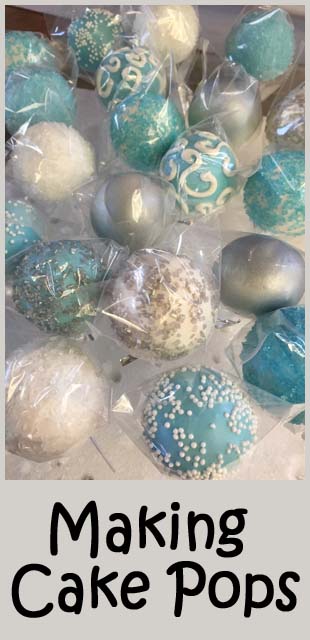 You can check out more tips under "Cake Pops" or go to one of these posts. Happy Dipping!
How to prep your cake pops.
Three steps to pop dipping.
Trouble Shooting chocolate melts.