I just had a crazy week of cake making which means I am sick of TV. When the kids are gone I watch/listen to shows while I work- DVR, Netflix, right now I am catching up on Downton Abby on Amazon Prime, (yes my brain IS part mush.) So today I just wanted to listen to some music while I cleaned. I found a CD in our music library that I used to listen to 7 (almost 8!!!) years ago while driving back and forth to UCDavis when Ben was a new baby. It was "Day Of Praise", a CD by Hillary Weeks, one of my favorite Christian/LDS song writers. Listening to it was a blast from the past, the music is so ingrained with all the emotions of the time.
Here's the scenario:
January '07– unlike this January it was cold and rainy.
UCDavis– 40 minute drive each way in said cold and rain, desperate to get there and then so sad to leave
Sweet BABY– my newborn baby in the NICU and NOT COMING HOME WITH ME AT NIGHT
Me– a wreck. Hormonal, sad, trying to figure out Baby with crazy medical needs, and torn because I wasnt with my other 3 kids at home.
I would get in the car and turn on this CD. It had songs that made/let me cry and songs that gave me hope. Here is the utube link to one of my favorites- "He'll Carry You" and seriously one of the most beautiful songs of all time. It starts out "He knows your heart, He knows your pain, He knows the strength it took just to simply breath today…..when you've taken your last step and done all that you can do, He will lift your heavy load and Carry you" you get the idea! It is still one of my favorites.
But back then there was one song on the CD that I always skipped, it's called "Unwritten" and it just wasn't my song. I thought it was a song for young girls who had never made mistakes or moms who never had anything bad happen to their children.
It starts like this:
"Every day's another page that's added to my story,
Sometimes it's like I see my life open right before me
More than all the chapters of my life, I'm thankful for what's not written in black and white (yah lucky you)
For the roads I never traveled, for the pain I never knew (what a charmed life you lead)
For the places that you kept me from, Father I thank you (soooo I guess God thought I needed more refining?)
For the days that were not wasted For the years not spent in vain (yah cause I never make mistakes….)
I'm grateful for the stories that remain- unwritten " (well I'm working on a trilogy)
I can see why in the past when everything was upside down and unknown this song did not seem to fit my life, in fact as you may have noticed, I was bothered by the way it DIDN'T apply to me (I know it wasn't personal Hillary, just me adjusting to my life ;)) But today when I heard the words to Unwritten I felt such a overwhelming gratitude! There were many times things could have turned out so much differently than they did.
By trying to get a history down on "paper" these last few months I have been thinking a lot about the past. As a rule I don't intentionally think about the traumatic experiences– (I am happy when they are back in their little corner keeping quiet.) But aside from being therapeutic to write it all down, it has also been GOOD for me to compare how far we have come. It's easy to forget.
Back then my littles were completely dependent and so fragile, home and hospital were the routine.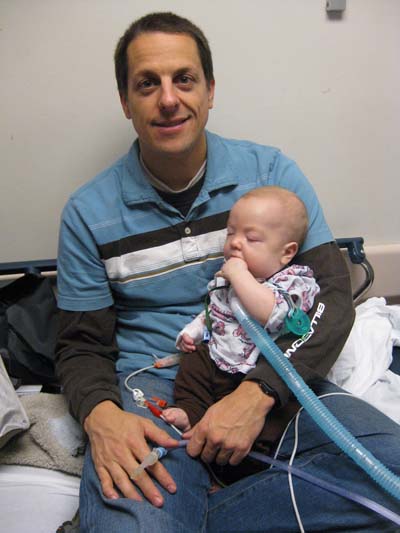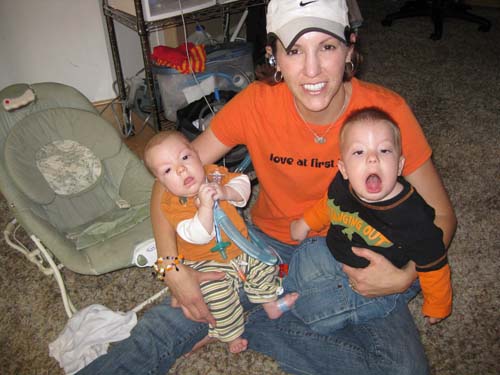 Now they are in their own Sunday School classes but still meet in the hall to hold hands.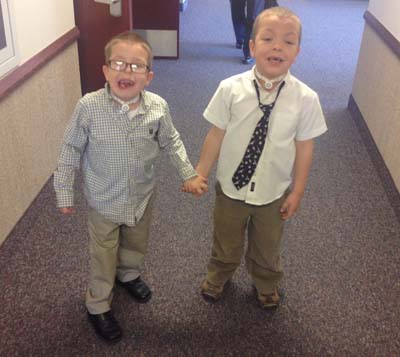 NOW I get woken up every morning by sounds coming from the bunk bed next to our bed. The beeping of monitors and alarms as Ben and Ty wake up, take their equipment off (mist machine and pulsox machine,) and then find their speaking valves (also glasses for Ben.) Then I get a big fat kiss from the sweetest 6 year old who still has the most squeezable baby legs and who always wants to cuddle. "Good Morning Mom! How was your sleep? Did I let you sleep in?" NO "Yes I did! You were sleeping forEVER!"
NOW I hear Ben sliding the dresser drawers open and closed as he picks out his outfit, then walks to my side of the bed to say "How do I look?" with the proudest grin even when he is wearing the short shorts I should have thrown out a couple years ago. Then "what we going do today Mom?"
NOW I find the best, cutest, happiest selfies on my phone all the time.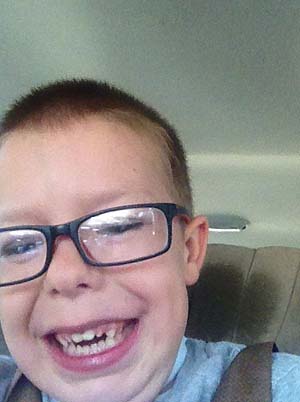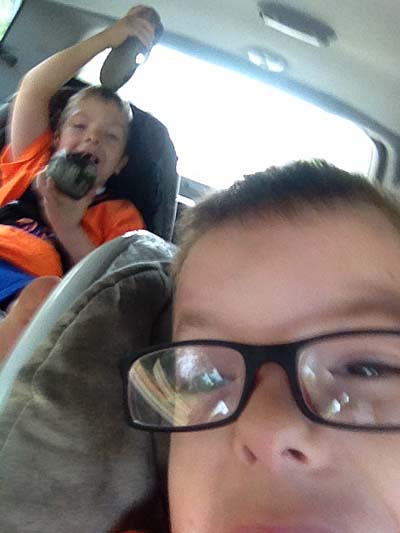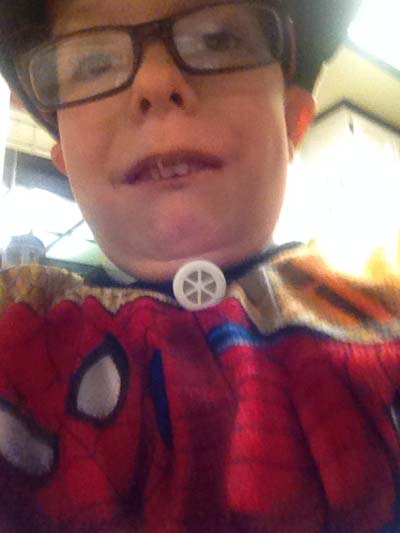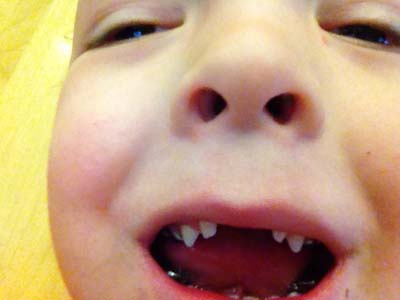 I listen to that song now with new ears- maybe it also goes back to trying to be grateful in every circumstance. But today I feel really truly grateful for the things I haven't had to write in our family history. As far as the future for our family? I am trying my best to refer to the plaque on my wall- "Faith is not knowing what the Future holds, but knowing WHO holds the future."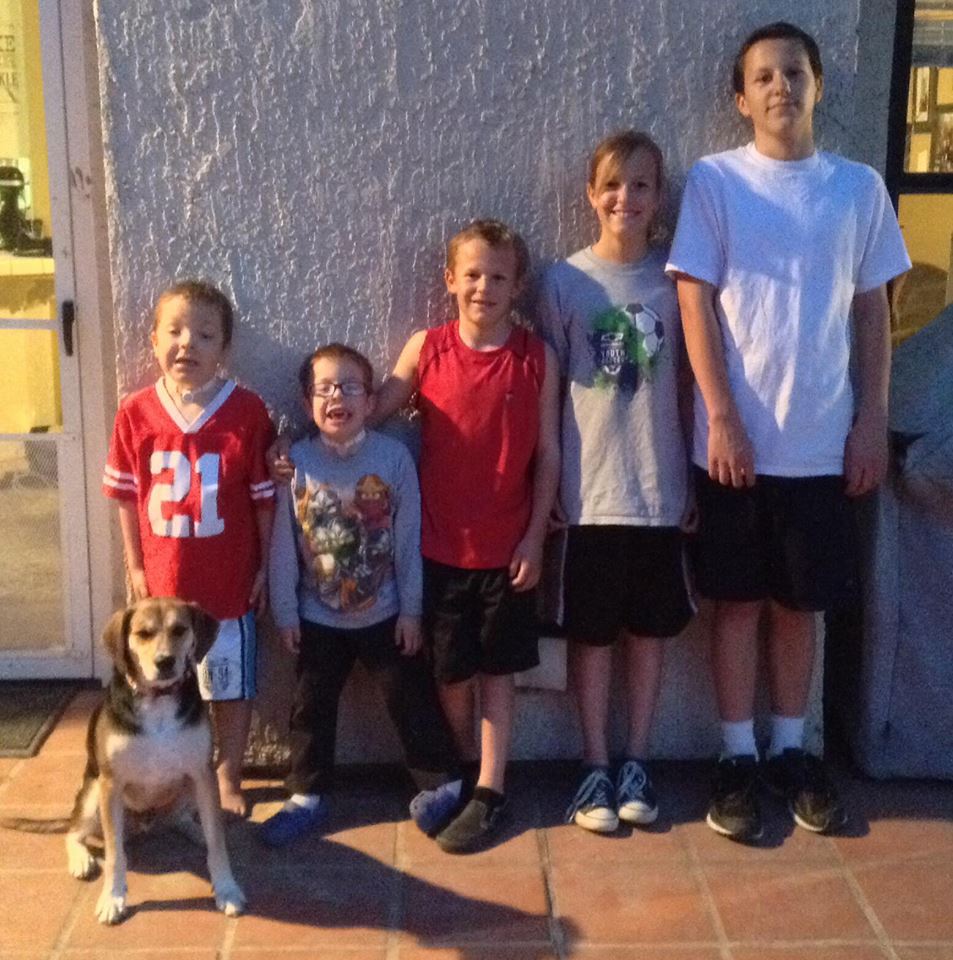 LM
MW