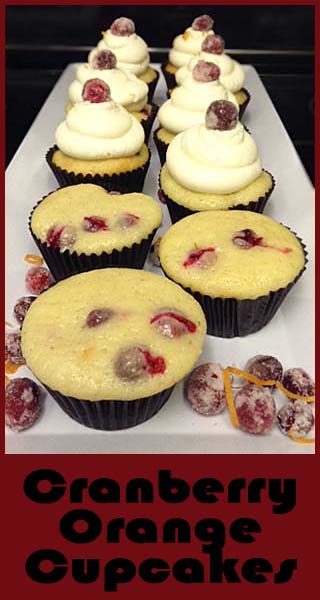 These are a new favorite- I love the tart flavor of cranberries paired with the orange in the cupcakes. SO GOOD. I thought it was my new Holiday favorite but I think I would make these all year long.
4 1/2 cups cake flour (or 4 cups flour shifted with 1/2 cup corn starch)
3 tsp baking powder
1 tsp salt
2 cubes (1 cup) softened butter
1/2 cup oil
3 cups sugar
5 eggs
2 tsp vanilla extract
zest of one orange
I added 1/2 tsp of Orange Oil but that is optional
1 1/2 cups milk
3 cups fresh cranberries
Sift dry ingredients together. Blend the oil, butter and sugar until light and fluffy then add the eggs one at a time. Add vanilla and orange zest, blend and then add the dry ingredients 1/3 at a time alternating with the milk. Toss the cranberries in a TBL of flour and then fold them into the batter.
Fill the cupcakes liners 3/4 full and bake at 350. Delish!! Go HERE to make your own candied cranberries!