This is the long post about how we got our gorgeous girl Tallula, Bens CCI skilled companion. Scroll to the bottom for the beginning!
May 20 2014
Well we are home now- but I want to post about the last few days of Dog Training. They flew by so fast! Partially because all of a sudden we were all realizing "ack! its almost time to go home and leave all our friends!" which was really sad, and also that we were going to be on our own with these dogs! I felt like I wanted the trainers to follow me around for a couple more days so they could critique EVERY move I made. But obviously, the program works this way for a reason and I had a feeling that once we left Tula's familiar trainers she would start to see me more as "pack leader." And it has happened, she is really responsive and wonderful here at home.
On Thursday we had our tests, all through the program I had not worried about the working with the dog part but the written part had me nervous! We covered A LOT of material, from Canine Communication, Advanced Learning Theory, Resistance, Motivation, to everything else. (I feel like such a pro now, I was driving home from school drop off and saw some people walking their dog and thought "Oh, they shouldn't be holding their leash like that! Tsk Tsk" never mind that its easier to be a pro with a professionally trained dog that I didn't have to train!) But the test was fine- the classes were interesting and easy to pay attention to so it was a lot of common sense. And the trainers kept saying they didn't want the dogs back. 😉

One of the highlights of the last day was of course, meeting the puppy raisers. I had always thought "who could have a heart big enough to do this!?" To be handed a sweet puppy, bundle of joy, fall in love, train (they have excellent support and classes!) and then give back. We had always known we were going to meet them for a lunch, but for some reason I got so nervous right before, I was afraid I would not be able to convey how I felt about this gift we had been given, how do you thank someone who has given up a year and a half of their life so your child could have a companion like this? When I saw a couple walk over to our table my heart just started racing- I found Ben and we walked over and I just started crying as I hugged Dawn (who was crying too of course.) Even now I keep writing and deleting because there really isnt a good way to express how I felt and still feel. Jonathan told me later he felt emotional the whole afternoon, when he first met them he couldnt talk for a few minutes.


Dawn and Dan are a wonderful couple who just felt like now was the time to do this. From the time she was a little girl Dawn had always wanted to raise a puppy and Tula is their first puppy. (They just got another one today!) I love that they are close and that we can stay in touch with them. Dan said he always knew Tula had a great destiny. And I am so glad Ben is her boy!!! As part of the Graduation ceremony Dawn and Dan brought Tula up to us and "turned over her leash." I dont think there were many dry eyes during the ceremony. If you have never been to a CCI graduation- go! They are amazing, and I know its because it is a celebration of those giving service and we were the lucky (and grateful) recipients. Here are the puppies that went out to their puppy raisers that day…..

May 4 2014
Day 1- leaving for dog school. We have been so excited to do this- and we know it is such a blessing. This morning though trying to get it all together, get to church and then be ready to leave right after I was just feeling that anxiety creep up. Last night I told Jonathan I was going to need a blessing and so right before church we all sat in the living room and when Jonathan gave the blessing I knew it was just what I needed.
Then we got up to go to church and Ben said "I need it! I am going to dog school too!" and we said oh we will do it later Ben but he would not let up. Ben sat on the piano bench with his arms folded tight and his eyes squeezed shut and a big smile on his face as Jonathan blessed him. And I think this was what I needed most of all. To hear this sweet blessing and see how Jonathan felt while giving it to him. Thinking about those blessings is the only thing that kept my anxiety at bay when it was time to drive away and leave home for 2 weeks.
It is awesome here. The facility is so amazing. FULL kitchen- every gadget and huge fridge and freezer for us all to keep our food. The rooms are so nice and comfortable, Ben was so excited about his bed, he was not interested in sleeping with me at all. When it was bed time he got his pj's on and climbed in bed all by himself. He has already made a friend "Wyatt" and they are two peas in a pod! Wyatt is the sweetest boy, he doesn't walk without a walker but is fast as anyone scooting on his knees. They are a great match! Ben asked if Wyatt could sleep in his bed. 🙂 Here is their "silly" picture. And of course Ben convinced him to play the Wii with him.

Whenever we do something Ben follows it with "and NOW do I get my dog???" He is so excited and so I am. I really cant believe we are finally here and I am so excited for our class tomorrow!
May 8, 2014
It has been this weird time warp here- on Tuesday after only being here 2 days I felt like we had been her FOREVER but not in a bad way, just strange. We started working with the dogs on Monday afternoon, all morning Ben kept saying, "when are we getting the dogs?" and when I said "after lunch" he replied "but I'm NOT HUNGRY!" (like it would get them here sooner…..)
We met the dogs that afternoon, this was Ben's face right before we got to meet them- BEST DAY EVER!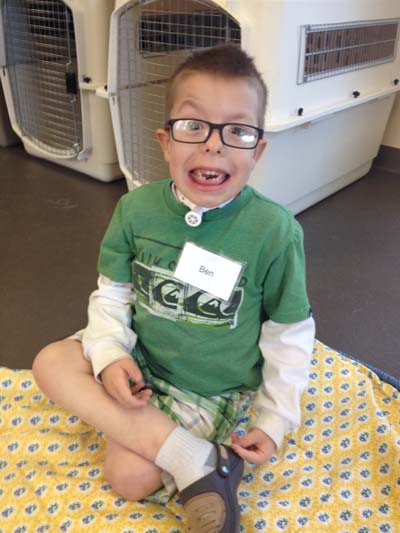 Working with the dogs was nerve wracking at first. But now, our first night "home" with the dogs I can't believe how far we have come in 4 days. The way the program is set up and run is simply awesome. We are so well taken care of in such a nice facility, comfortable rooms, and a great room where it is so convenient to be with the other families that are here to eat or just hang out which is perfect because that is one of the biggest highlights.
I knew Ben was excited to get a dog but I have been so touched but how much he really loves this. He has sat through every lecture and been SO good! We are in class from 9-4 every day and he just plays on his iPad, (I have let him get more new aps this week!) draws, and just hangs out. Getting to see and be with the dogs is enough. As we learned the first basic commands the instructors would have us practice with different dogs and of course we completely read into each one- "Is THIS the one for us?" and started to have slight favorites. But each one had something really great about it. We had "cuddle time" with the dogs where they spread blankets out on the floor and then would bring us the dogs to just play with and get to know. The first dog they brought us was Caliber, a big gorgeous black lab who had LOTS of energy. Then they brought us Tallulah who was a lab and retriever mix, really light and a little golden colored. She ALSO had lots of energy- I was sensing a theme! But when they asked "is it too much?" I really didn't think so- she calmed down and was just sweet. That was Monday- on Tuesday is was a repeat- more commands to learn and practice, cuddle time (we got Tallula again) and then we did practice walks and worked with the dogs some more. We knew they were going to match us up the next day so we were all speculating and I really thought we would get Tallula but I wasn't wanting to get my hopes up. They took us each aside and asked us what we thought and I told them I loved her but knew they knew the dogs best and would know who to match us with. Ben was still saying he was going to get a Black dog but I knew he would come around if we didn't. This was our first walk with Tallulah


Wednesday morning was just… neat. For some reason I was just so nervous. We all met in the great room for the "pre-match" (basically they call it that in case a match doesn't work out for some reason but most do.) All the staff came from all over campus because it's so fun to see. We spread out all over the room and we sat on blankets while they called out which dog went with which person and when they said "Ben Walburger and Talulah!" he was so excited! I am so glad our friend videoed it for us because it's so cute- Ben was laughing and Tulah was licking his face all over- really fun. But because we didn't take her home to our room Ben kept asking "When do I get my dog??" meaning "when do I keep my dog!?!"


It's blurry but you can image how this was in real life, lots of wiggling and laughing!
I cant believe how much we have gotten through in 4 days- here are the commands we use now:
Sit, Down, Let's Go, Wait, Heel, Side, Up, Push, Off, Lap, Jump, Give, Fetch, Stay, OK, Under, Kennel, Hurry (which is "go potty") and we still have a lot to go. They have gone into so much detail about Canine Communication and how and why these dogs do and act the way they do. And it's all actually so interesting. We are tired though- the whole experience is emotional and maybe that's why its draining!
We have Tulah (what we will call her- Tallula is a mouthful for Ben) in our room tonight and I have to keep reminding myself to be sure she bonds with Ben because I already am just wanting to love on her! I can tell she is testing me and my pack leader ability but that is what they said to expect and I am up for the job! I am so grateful we are here, so glad that 3 years ago I got such a strong feeling this would be a great thing for Ben.

Ben is having issues with the fact that I have to be holding the leash- he has his own but when I said "I have to always hold the blue leash." He then said- "Well where is MY dog?" Now he understands its a team effort.:)
Ben also has a new love- he is just having so much fun with Charlotte- who is almost 16 and he wants to go home with her NOW. She knows just how to talk to him and play with him- I LOVE HER! He is always asking me where she is. Another great friend is Milo (note the matching hats.) They are so cute together! Ben is going to have a rough time adjusting to life without all his friends when we go home.


The families we have met here are just amazing- it has been really wonderful getting to know them, and feeling like even though we all have a different story, everyone just GETs it.
May 9, 2014


Well even as I am typing this I KNOW I am exhausted, tired and so that is playing a huge part but I wanted to record it so I can be accurate- this is hard! As wonderful as it is, as much as I would not change a thing, this has been a tough day. I am so happy with our dog- she is beautiful, so smart, she knows every command and I have no doubt she is one of the top of her class but she is testing me. When we "lets go" (the command for walking where her head should stay right near my knee) she constantly tries to "forage" ahead- of course she is learning to respect me, she hardly knows me. But the high spirit I love about her is also what is hard about her. Even the trainer said "you have your hands full with Tallulah" but I am not sorry we have her! I see other dogs that the trainers have to coax along, or dogs that don't care about playing fetch (Tulah goes INSANE for it which is awesome for Ben and I believe the trainers know what they are doing) when they matched us but tonight I just felt super discouraged. All the family was here (which is great- I could not have gone 2 weeks without being together) but that may be part of the problem, a lot of distractions. She just would NOT listen to me when I was trying to get her to drop the ball. Sounds so silly. But we are not supposed to back down once we have given a command so I was just in this big power struggle with her and I kept correcting and repeating the command and she was just not going to do it. I finally just grabbed it out of her mouth and then we went along with me trying to be positive but I feel like I am just not doing something right (writing this is making me cry so yes- I am very tired obviously!) because I know she is so smart so it is my handling. It is a lot. These dogs are such a responsibility and it is all on me right now, I can't let my kids or Jonathan take her because they are not supposed to give any commands, so it really is kind of like having another dependent 2 year old! Well- I am going to bed now, I can tell I need some rest, I am sure it will all look brighter in the morning. Unless I have already broken Bens dog 😉
On a more positive note- Ben is just literally in heaven. So many sweet friends here- he knows all there names and greets them "oh Hi Ty!" every time they pass. He got a new hat today and kept asking everyone (EVERYONE) if they liked it. He also has been so amazingly good in the lectures, now that Natalie is here he doesn't have to stay in the class with me but he said "I want to go to Dog School and learn about MY dog."
May 13, 2014
Ok- I reread that post and yes, it was accurate but the next morning I felt so much better after a good night sleep. Fast forward to today- HOORAY! We are officially a permanent match with Tula. Here are all the families with their dogs!

We had 11 families in our training room and I just loved them all- the kids are amazing. Jacob so sweet- always wanting to serve everyone and pet every dog, Mateo really touched me- he uses a speaking device and programmed it so that he could say hello to his new dog (!!!) Justice, who is a bright spot every day- so enthusiastic and fun. I am going to be sad to leave these families.
We went to the mall and did our "public pre-test" and she was a star. This weird time warp here is crazy- it feels like I have had her forever! But then I cant believe they are going to just send us home with these dogs in 4 days. We have done a lot of fun lectures this week- we learned how to teach our dogs new commands and it is serious BABY STEPS (makes me think we may have had unrealistic expectations of our other dog Ryder.) I feel like I have been learning a new language- its so interesting but there is SO much to think about. I will have to go home and review it all. But when the trainers had a "check in" interview with us yesterday I started crying- like a dork- because I am so thrilled and happy with this whole experience. I feel like Tula brings so many possibilities into Ben's life, she is already listening to him when he tells her to Sit or Down and he LOVES it. The hard part is that NO ONE else besides Ben and I are supposed to give her commands. Natalie is going nuts but that is just how it needs to be so that Tula knows Ben is her buddy. Now we have our testing on Thursday and then Graduation on Friday!

Day 10
(May 14)
Today it is really starting to feel like things are coming to an end. It really is sad in a lot of ways, I feel like this has been so exceptional for Ben- so many friends that he feels so happy and confident around. Usually names are tricky for him, he has to ask everyone to repeat a lot of times but for some reason he knows ALL the names here! I love it.
We had a lunch with all the staff today and it was really touching. The head honcho was telling us "congratulations" and he asked if anyone wanted to say anything and Jason (our elected speech giver at the graduation) started us off with some really great comments about CCI and what they do, how it changes lives. It is so true, I just wanted to add my thank you as well and Ben got all excited "can i talk in the microphone?" (they were passing one around.) I just shared a little back ground on how we signed up for CCI and how grateful I was to have met so many wonderful people. Ben took the mike and said "my name is Ben" I asked why he was here and he said "because I needed a dog!" Duh!
Jodi (Justice's mom) took a turn and was so eloquent and just shared what so many of us are feeling! How it is an amazing miracle what takes place here. She talked about how she felt when she saw Ben first hug his dog, how one little boy here would never go out in public but now he will with his dog! How another boy who spoke very little is now so talkative, giving commands to all the dogs and even giving them in his sleep :). How another child who was NOT vocal at all is now talking (!!!) giving commands to his dog. It really is just amazing, I knew it would be wonderful but I couldnt have imagined how much it would touch so many people. And not just us, the caretakers for the puppy breeders, the puppy raisers, the trainers, the donors, the whole staff….. it is a lot of people with big hearts.
We had our last lecture today and then tomorrow we do all our testing, our dogs get baths and then we are just getting ready for graduation where we will meet our individual puppy raisers. I cant wait!
Tonight this is what just melted my heart, Ben knows every Frozen song and when he sings "Let it go" its usually extravagant dance moves and spinning around. But we were sitting around with our friends, kind of not wanting to go to bed because it was the last night, and Charlotte told Ben to sing, and instead of the big dance moves he just stood there and sang his little heart out. Charlotte had it on her phone so he was singing with it and everyone just sat and listened for 3 minutes while he sang his very very best, so sincerely! How on earth will he go on with out his audience of friends?? How will we ever live up to this? 🙂
April 28, 2014

This has been a long time coming! When Ben was 4 (in 2011) I started hearing about CCI Dogs and how wonderful they are. I started reading about them and found out there is a training center in Santa Rosa, a couple hours from us. I called them and found out that Ben had to be 5 to apply. Sigh. So, when he turned 5 I went back on the site again and as I read again I just felt so strongly that Ben would really benefit. So I sent in the application, and the waiting began. A few months later I got a thick envelope in the mail to fill out, a paper application. I filled that out and sent it in- then another few months passed and we got a call to make an appointment for a personal interview. A few months later Ben and I went to Santa Rosa and spent about 4 hours in a personal live interview. We got to interact with the dogs- meet the trainers, had a WONDERFUL time….and then went home to wait some more. A month after Ben turned 6 we got the letter saying we were on the list (!!!!!!) We were so excited! But it was a little anti-climatic in the sense that now it was MORE waiting. We knew the average wait to actually get a dog was 1 1/2 years. Well fast forward to now, we are leaving in a week to go to the 12 day training program. I almost cant believe it really happening.
But of course being the crazy I am these days, when the call came in March that we were invited to the May training I had a complete meltdown. All my ANXIETY came crashing down because I was worried about leaving Ty for two weeks and being on my own with Ben, (that seems to be a catalyst for my anxiety) Jonathan was wondering "do we really need two dogs?" (we have a family dog Ryder- cute beagle hound) and so I just started doubting it all- complete meltdown. Why would I be having a melt down about getting just what we had been hoping and waiting for all this time? I was a mess. I was up till 2 in the morning with my mind racing just trying to figure it all out. When I finally had a good cry and went to bed I just said a very heartfelt prayer. "Please just let me know what to do!" and the next morning I woke up feeling completely peaceful, and sure that it would be fine. I think opposition really sets in when I am trying to do new/hard/good/out of my comfort zone things. I am so grateful for all the small and large ways Heavenly Father motivates and calms me so I can actually be sure about choices I make, (when I remember to make him part of the decision!) or I am sure I would be talking myself out of most of my blessings.
So, happily now we are getting ready to go! Ben is constantly asking me to check the calendar to see what day we leave and tells everyone we see "I'm getting my dog!"


If you know someone who has dreamed of a dog like this (and wont go crazy when the dream actually comes true!) you can find more about this amazing program here at Canine Companions. When we were at the personal interview they had cute stuffed dogs and Ben picked the one in this photo. We are not sure if he will get a Black Lab, Yellow Lab or Golden Retriever but I am curious to see if he was inspired! 😉